The 2020 North Carolina Student Angler State Championship started off with anglers from all over the state in rain suits. All of the anglers were looking for that grand prize of going to the National Championship in the beautiful state of Wisconsin.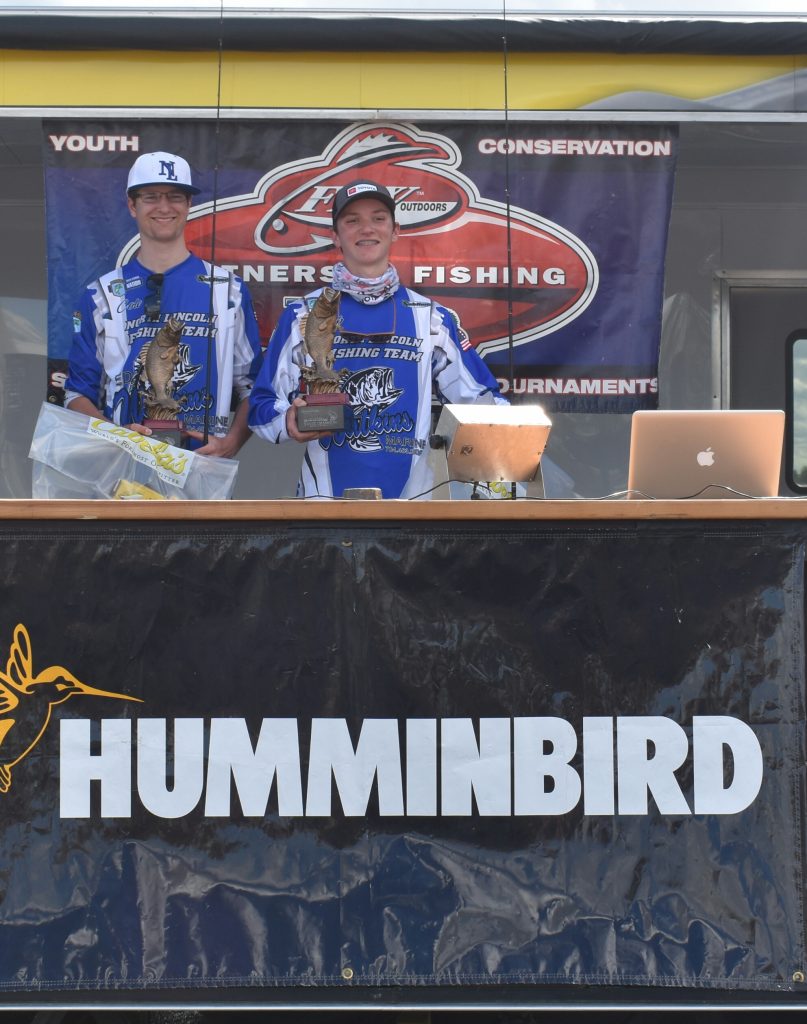 The launch started with rain for a couple of hours. North Lincoln High School anglers, Jacob Singleton and Cole Johnson, were part of the first launch which gave them the upper hand on an area only a quarter of a mile from the ramp where they had practiced a couple of days before. Within the first 30 minutes, they had landed their first bass. They stayed there for almost all 8 hours of the tournament catching quality fish which took them to the top of the leader board. Their big fish was a 5.33, followed by other 5 lb. fish, gave them the winning bag of 24.42 pounds. They only threw 2 baits most of the day, a Shane's Bait A-rig and a DT 10 Rapala Shad. However, those two baits would be all they needed to take home first place in the North Carolina State Championship.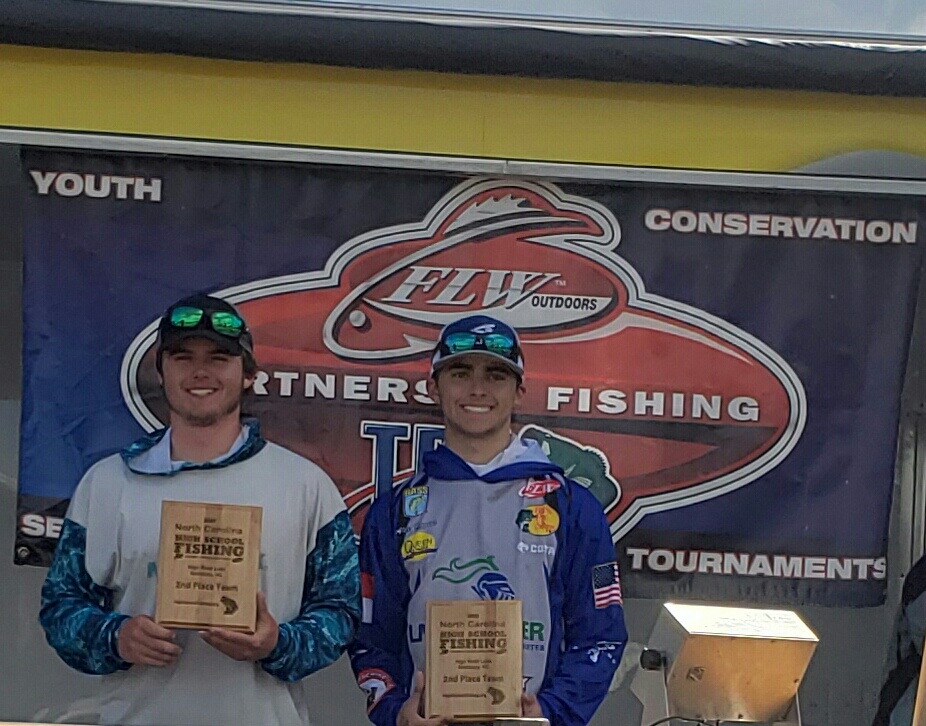 Jake Monti and Alex Coggins came in 2nd place with 19.01 lbs.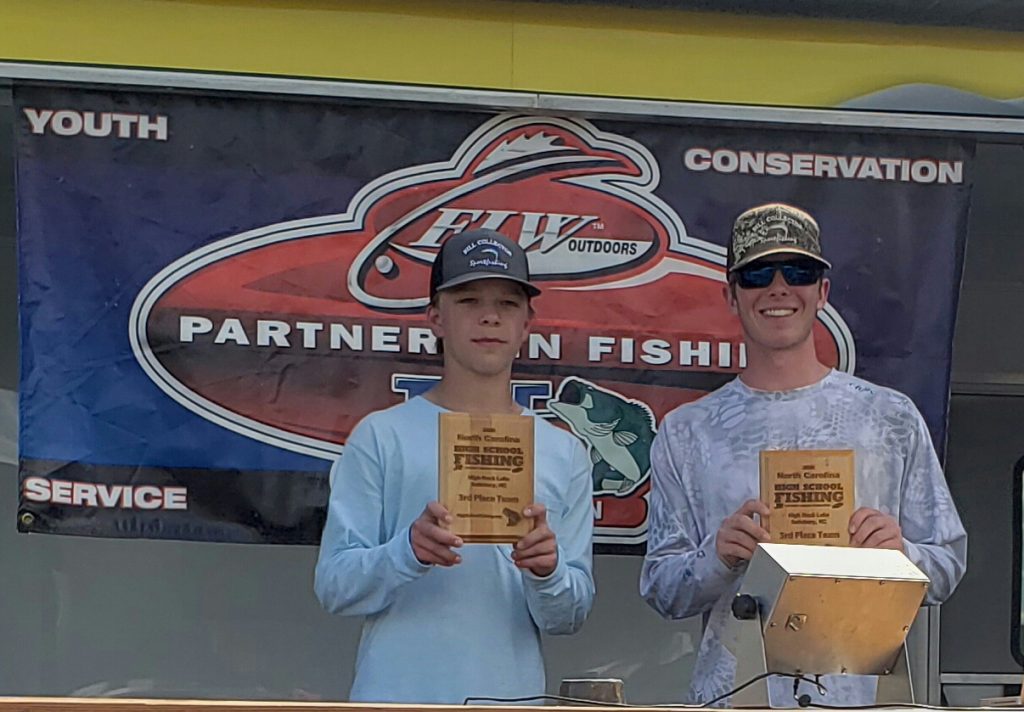 Zeb Burns and Logan Dyer came in 3rd place with 16.89 lbs.
While we have developed special procedures to limit and distance participants in all our events for the foreseeable future. The TBF Student Angler Federation has and will be cancelling most high school events except in very limited, small event, circumstances, from March 15th through April 4th out of support of the requested minimum 14 day distancing requested by our elected officials and Federal health task forces, and for our High School Athletic Association partners who have had to cancel their events. Most of all for the health and safety of our anglers and extended families.
At this point we simply are not certain any of our venues will be open during these rapidly changing conditions, restrictions and closures.  So that our anglers can plan, events are being rescheduled now.  As such the following Student Angler Federation high school events are being rescheduled, new dates are listed where they are available.
March 21 – WASHINGTON HS State Championship, on lake Washington is cancelled/reschedule is TBA
March 22 – NEVADA HS State Championship, Lake Mead cancelled/reschedule is TBA
March 28 – KENTUCKY HS State Championship, on Cumberland from Burnside Island has been rescheduled for April 18th same location with Friday night meeting at the ramp.
March 28 MissHSAA Invitational on Ross Barnett is cancelled
March 29 – MISSISSIPPI HS State Championship, Ross Barnett cancelled/reschedule is TBA
April 4 – VIRGINIA HS State Championship, Lake Gaston cancelled, reschedule is TBA
"We greatly appreciate everyone's cooperation and understanding and we will do all we can to minimize impact" stated Robert Cartlidge Federation National Office President /CEO. "However, due to current COVID-19 US guidelines, it is in everyone's best interest to follow the path laid out by health officials and to do our small part to help stop the spread and protect those that may be high risk."
Rescheduled dates that are not listed here will be announced as soon as possible. If you have questions contact the Federation National Office at 580-765-9031 M-F from 8:30-5pm and thank you for your understanding.
As a reminder, health experts have publicly advised there is no reason to panic. According to the Centers For Disease Control (CDC) for most people, the immediate risk of becoming seriously ill from the virus that causes COVID-19 is LOW.  Based on the recommendations from the Centers for Disease Control (CDC) on everyday prevention of any viral infection, such as the flu or Covid-19 we HIGHLY recommend the following tips:
STAY HOME – when sick or living with a sick person.
DISTANCE – stay at least 6 feet away for other persons
COVER – the nose and mouth when sneezing or coughing.
OFTEN – Wash your hands OFTEN with soap and water.
ROUTINELY – clean frequently touched surfaces and objects.
LIMIT – face-to-face or Hand to face or eyes contact.
CONSULT a healthcare provider as needed.