McCoy & Harrelson Win High School Event on Lake Lanier
It was a good weekend for High School Fishing at Gainesville, Georgia this past weekend.  Georgia Independent Christian Athletic Association (GICAA) had a qualifying event on Lake Lanier on Saturday, and then the Student Angler Federation (SAF) had a Georgia High School Fishing State Championship event on Sunday.  Both events launched out of the impressive Laurel Park Facility.
The Mount Paran Christian School team of Mason Mccoy and Marshall Harrelson claimed the victory and the title with a limit of fish weighing 18-07 pounds.  Finishing second was Matthew Mccannon and Carson Childs from the County Line Fishing team with a good sack that weighed 15-08 pounds.  Rounding out the top three teams was Elijah Benson and Justin Butler from Dawson High School with 14-13 pounds.  With a total of sixty-seven teams participating, we were able to qualify six teams to move on to the National Championship that is coming up on June 18-22 at McFarland Park in Florence, AL.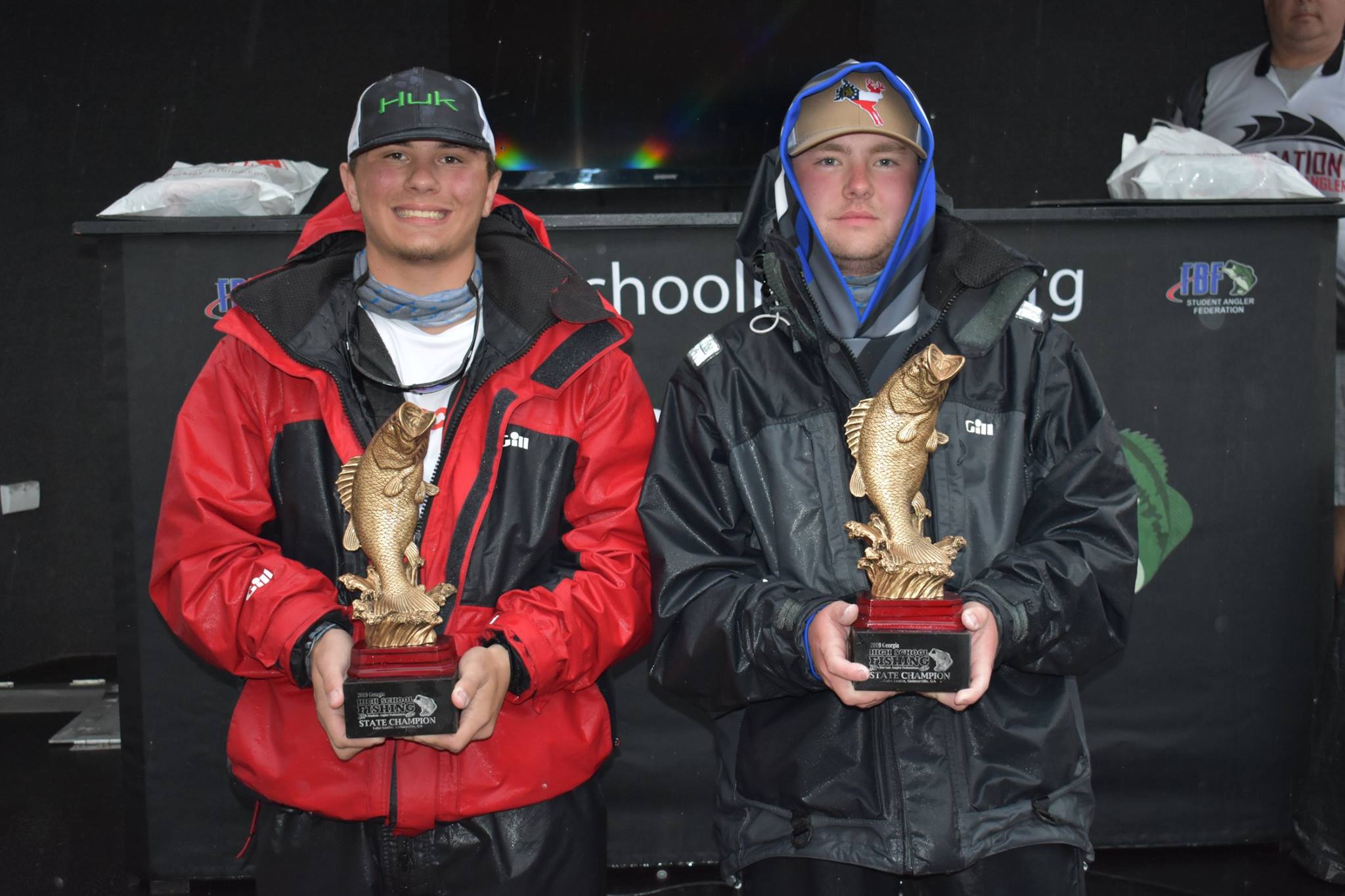 The last three teams to qualify were Brooks Anderson and David Britt from Mount Bethel Christian Academy with 14-09 pounds, Brayden Milling and Johnathan Harris From Ringgold High School with 14-01 pounds and the North Forsyth Raiders team of Jacob Brown and Ryan McClendon with 14-00 pounds.
With the warmer temperatures and driving rain, most teams were able to catch their fish fairly shallow on Sunday.  Several teams reported catching fish on a Shaky Head in about five feet of water along with a spinnerbait, rattletrap and a small crankbait.  While other anglers ventured out into waters between ten to twelve feet deep to catch fish on soft plastics, jigs and swimbaits.  Despite the pouring rain the crowd was impressive and umbrellas were abundant during the weigh in.
For full tournament results and to see all the photos of a ton of huge spotted bass that Lake Lanier has to offer, Check out the results page !