Losee and Tweite Claim SAF High School Fishing National Championship,
31 Teams Move On to World Finals Grand Finale on Saturday
June 26, 2020—Stoddard, WI—Limit catches, lead changes and burly bass were the rule of the day three of the Student Angler Federation (SAF) 2020 High School Fishing World Finals and National Championship dual event.
Downpours of Biblical proportions didn't dampen the spirits of 312 teams from 39 states fighting for a share of more than $3.2 million in scholarships and other prizes in the two events.
Running June 24-27 on Pools 7, 8 and 9 of the Mississippi River, the no-entry-fee championships are hosted by La Crosse, Wisconsin, and produced by SAF under The Bass Federation (TBF) umbrella with the support of coalition of 19 sponsors and FLW Outdoors.
Take-offs and weigh-ins are being held at Stoddard Ramp on the Wisconsin side of Pool 8. Teams are allowed to bring their best three bass to the scale each day.
The SAF High School Fishing National Championship was decided today, with the top 10 teams from Thursday's weigh-in fishing for the national title. The remaining competitors from the national championship field fished in the World Finals' second-chance round.
Day two leaders Lawson Losee and Kooper Tweite of Riceville, Iowa, were last to weigh in of the top 10, and rocked the stage with an 11-pound, 2-ounce limit. Anchored by a 5-pound, 8-ounce kicker, the catch catapulted them to victory with a 30-pound, 4-ounce three-day total weight.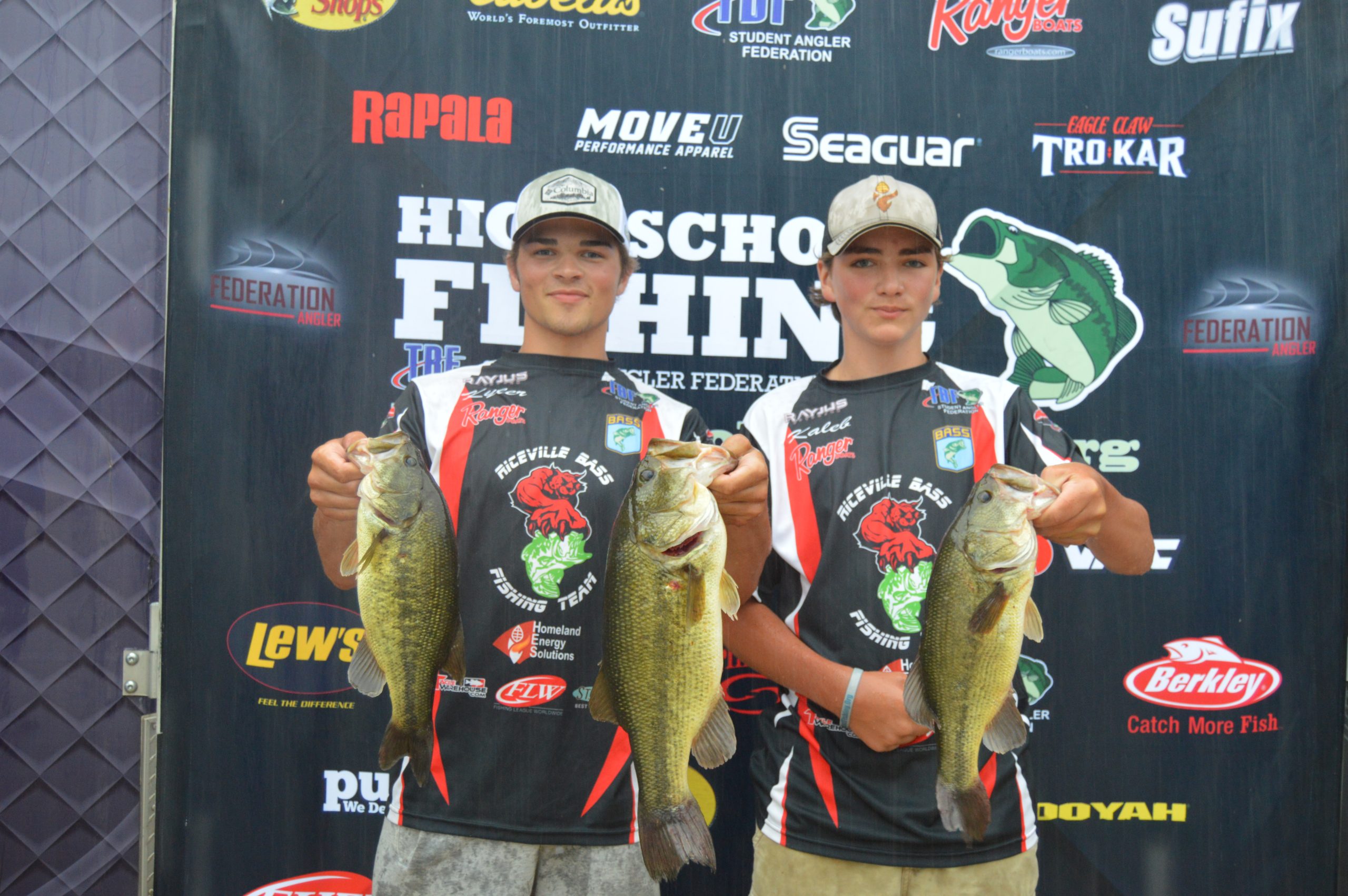 "This is amazing," said Losee. "Early on we were joking about winning. But after leading the second day, we talked and said we can really do this. We came out, caught some big fish and now we're national champions. It's awesome."
"We went into the day expecting maybe 9½ or 10 pounds and came in with the second-biggest bag of the tournament, it's phenomenal," added Tweite. "It was a great day of fishing."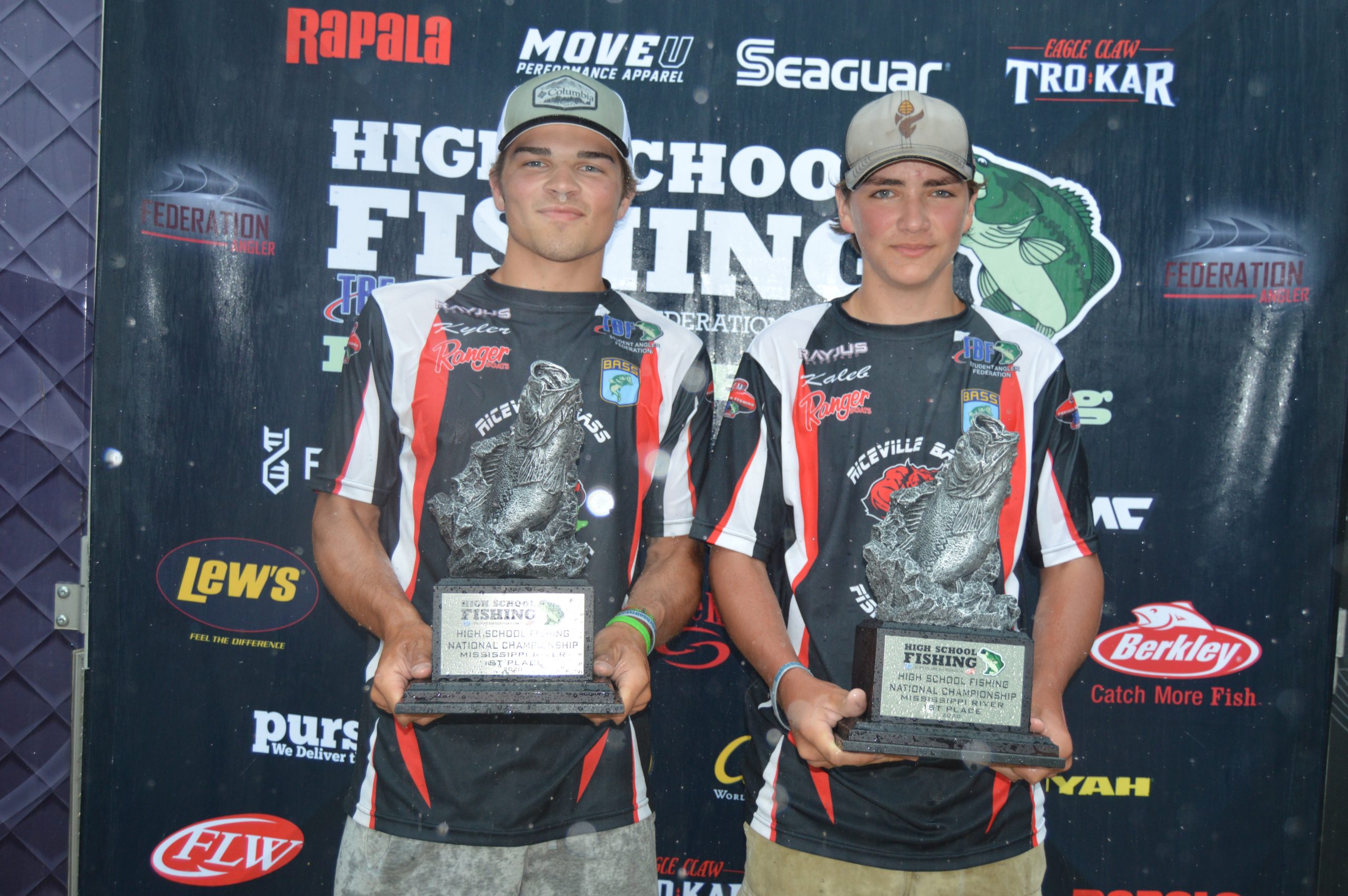 All three days, the team locked down to Pool 9 to find unpressured bass. The strategy paid off handsomely, producing an 8-pound, 12-ounce day one basket and 10-pound, 6-ounce day two limit.
Heading into the World Finals finale tomorrow, they see no reason to change course. "Same game plan," Losee smiled. "And we still have a honeyhole we haven't touched since practice."
Losee and Tweite's National Championship win earned them a trio of scholarship options: a 4-year, $120,000 scholarship offer to Simpson University on the shores of legendary Clear Lake in Redding, California; an $80,000 4-year scholarship to Kentucky Christian University in Grayson, Kentucky; and a $10,000 cash scholarship from FLW to any college or trade school of their choice.
"We definitely have a lot to think about," said Tweite.
Rounding out the HSF National Championship's top 5 were:
2nd: Trey McKinney, Zachary Martin, 28-07
3rd: Jace Anderson, Braydon Harcrow, 26-07
4th: Ryan Thomas, Cole Holloway, 26-00
5th: Ransom Boone, Russell Moore, 25-14
World Finals Recap
In World Finals action, all teams battled for coveted spots in tomorrow's grand finale. The teams were split into two groups: the top two squads from each state fished the World Finals semi-finals, while the remaining teams competed in a second chance round.
The top 10 semi-finalist teams and next 10 finishers from both groups will fish tomorrow, along with the top 10 teams from the National Championship and the winners of a "Lucky Dog Last Chance Wildcard" drawing open to one team not already qualified. All weights will be zeroed to give everyone a fresh start.
Tucker Veronee and Landon Gramling of Lakeston, South Carolina, sacked an 11-pound, 9-ounce limit of largemouths to top the semi-finals ranks. They say the Mississippi River is dramatically different from their Lake Murray home waters. "It's not even close to the same," Veronee laughed. "Murray has hardly any grass and it's lots of main lake point fishing."
"I grew up near Santee-Cooper, which has a lot of grass and trees, so that's very similar to here and helps us a bit," Gramling added. "We also fish a lot of rock structures back home, and there's some of that here."
They report consistent bites throughout the tournament but admitted that this morning was a little concerning. "We started off with small bites and 5 pounds before 7:30, then struggled until noon," said Veronee. "Then we ran across one spot where everything changed. We were pretty excited after that."
Gramling noted that scoring a scholarship tomorrow would be a major boost to his future. "If I want to go to college, I'll either need a scholarship or have to get student loans, so this would be huge for me," he said.
A 10-pound, 10-ounce limit propelled Mitch Johnson and Austin Sears of Dayton, Ohio, into Saturday's finals. "Last year we were 9 ounces out of making the final cut in the World Finals on Pickwick Lake, so this feels really good," said Johnson.
Accustomed to fishing Lake Erie, they quickly learned the ropes of fishing the river's shallow grass and current, and have high hopes for day four. "The first spot we had in practice really turned on today," added Sears. "I believe we can get the same weight or more tomorrow."
Charlie Wright and Carter Hietala of Becker, Minnesota, scored a 10-pound, 6-ounce limit to punch their ticket to Saturday's showdown. Although the Mississippi meanders near their central Minnesota homes, they admit the river is a different world farther north.
"We've fished farther downstream in Pool 4 before, though," Wright noted. "During practice we looked for spots similar to areas that have produced for us on those waters."
"On day one the bass just weren't having any of it though," Hietala added. "We switched everything up on day two and it worked out. We did the same thing today and was really slow, with only five keepers. But they were the right ones."
Hamburg, Arkansas' Ben Brockwell and Austin Fleming brought a 10-pound, 4-ounce limit to the stage to make the cut. "Early on we were fishing around different spots and got lucky finding one little pocket where we stumbled into fish and caught 'em pretty quick," said Brockwell. "Maybe we can get them again tomorrow."
"This fishes a lot like our home waters on the Ouachita River," Fleming said. "The Mississippi is a lot shallower and harder to get around, but otherwise it fishes the same. This is awesome and we're glad to be here."
Adding to the day's fun, SAF officials presented Jeremy Toler of Wyoming County, West Virginia, with an honorary high school diploma on stage. "I missed my graduation back home to come and fish the World Finals," said Toler, who donned a cap and gown for the ceremony. "This was a nice surprise."
About SAF
Created to promote education through fishing and foster a love of the outdoors among high school students, SAF offers a variety of educational, conservation, community service components. SAF's competitive venues include regional, state and national events culminating in the High School Fishing World Finals and National Championship. Launched by TBF in 2010, the World Finals is the world's largest open high school bass tournament.
All SAF members are eligible to compete in the World Finals, while National Championship contenders qualify through state championships.
"The format of these events was designed by parents and coaches to give every high school angler in America an equal chance to win a life-changing scholarship," said TBF President and CEO Robert Cartlidge. "The system levels the playing field and eliminates local teams from dominating an event."
The day three weigh-in was presented by Rapala and Sufix, which presented competitors with RapTech Performance Wear caps and spools of Sufix Advance and Siege high-performance fishing lines. Spectators on site and online were treated to a total of 671 bass weighing 1,652 pounds, 3 ounces crossing the scale in the SAF's proven catch-and-release format. Big bass was a 5-pound, 8-ounce beauty brought in by Lawson Losee and Kooper Tweite, who received a pair of Lew's high-performance baitcasting reels for their efforts.
World Finals action continues Saturday with a 6 a.m. takeoff, and the day four weigh-in starts at 1:30 p.m. For complete results, day four qualifiers and details, visit HighSchoolFishing.org.
SAF sponsors include: Bass Pro Shops, Berkley, Booyah, Cabela's, Eagle Claw, Evinrude, FacultyOfFishing.com, Favorite Fishing, FishLab, FLW, Lews, MotorGuide, Move U Performance Apparel, Pursuit Channel, Ranger Boats, Rapala, Seaguar, Shimano, Strike King, Sufix, and VMC.