June 25, 2020—Stoddard, WI—Competition was fierce today among the scores of young anglers battling for a share of more than $3.2 million in scholarships and other prizes in the Student Angler Federation (SAF) 2020 High School Fishing World Finals and National Championship.
Running June 24-27 on Pools 7, 8 and 9 of the Mississippi River and hosted by La Crosse, Wisconsin, the dual event features 312 two-person teams from 39 states. Take-offs and weigh-ins are being held at Stoddard Ramp on the Wisconsin side of Pool 8.
The no-entry-fee championships are produced by SAF under The Bass Federation umbrella with the support of coalition of 19 sponsors our partners in fishing from FLW Outdoors.
"With virtually the whole field still in the running for millions of dollars of potentially life-changing scholarships to colleges and trade schools, everyone gave it 110 percent today," said SAF Tournament Director Randy Sullivan. A morning fog delay that cut fishing time in half further fueled the young anglers' competitive fires.
Lawson Losee and Kooper Tweite of Riceville, Iowa, made the most of their limited fishing time by putting a 10-pound, 6-ounce limit in the livewell. The catch was anchored by a 5-pound, 1-ounce kicker that represented a 3½-pound upgrade. Added to their 8-pound, 12-ounce day one basket, it put them in first place overall with 19 pounds, 2 ounces.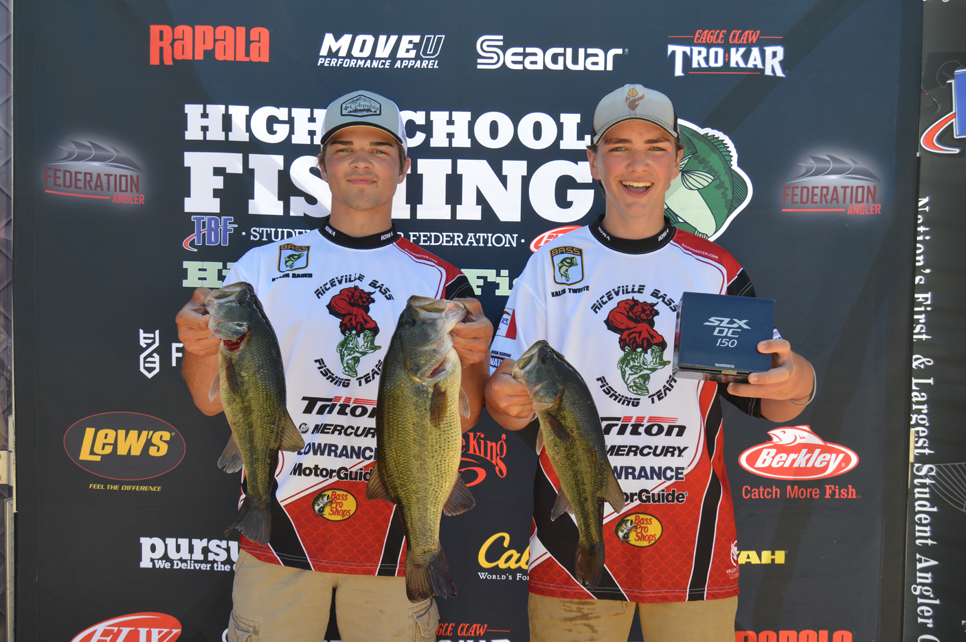 The hefty total was a sweet reward for rolling the dice to make a long run with limited fishing time. "We locked down to Pool 9 so we were only able to fish for about an hour," said Tweite. "We got six or seven bites, and actually, most of those came within 30 minutes. We didn't have that many bites today or yesterday, but we found big fish and it paid off."
Losee said the run to Pool 9 was key to their core strategy for competing against such a large and talented field. "The main reason we locked down was to have our own water and our own fish to work with," he explained. "Getting away from everybody else is helping us. We saw two boats yesterday and no one else today."
While it's still early, the pair are daring to contemplate the impact of taking home top honors and a trade school or college scholarship. "It would be huge," said Tweite. "We joked about winning it but now that we're this far, it's coming alive that there's a chance. We'd definitely take advantage of the opportunities."
Trey McKinney and Zach Martin of Marion, Illinois, brought in a 10-pound, 7-ounce limit for an 18-pound, 1-ounce total, fulfilling their goal of making the cut for both the World Finals and National Championship. "It means everything to do this," said McKinney. "There's a lot of great anglers and tough competition. It took a lot to get here and we're just enjoying the experience."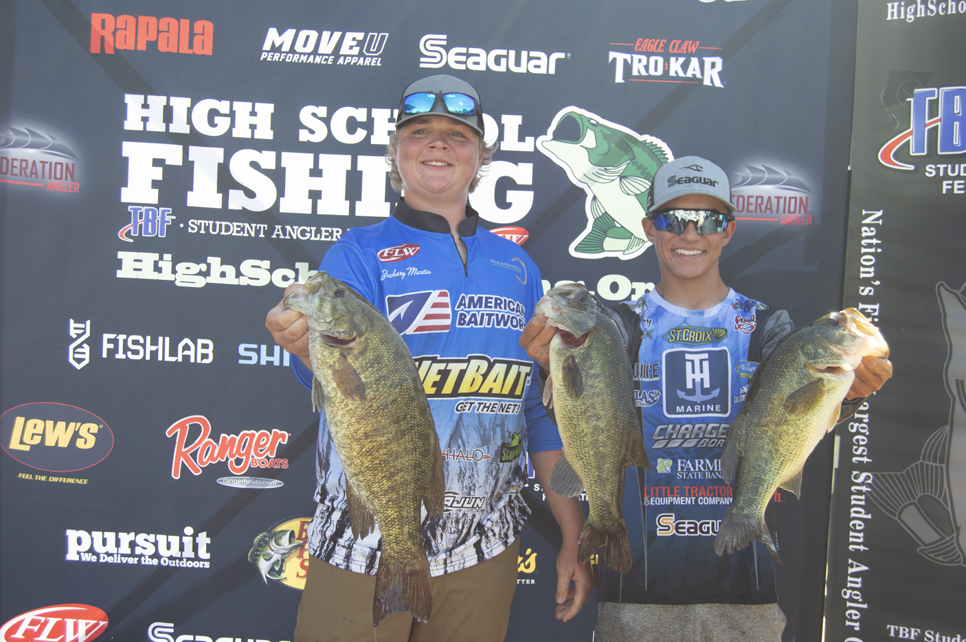 They said day two's bite was a bit more challenging, but the quality of the fish was better. "We were covering water and junk fishing," said Martin. "Covering water and hitting everything that looked good and might hold a bass," McKinney added.
Day one overall leaders Ryder Mains and Mason Chapman of Kansas City, Kansas, brought in 6 pounds, 4 ounces, slipping to third overall with a 17-pound, 15-ounce total. "The fog delay pushed us back but we didn't want to risk locking up to Pool 7, so we tried replicating our day one pattern in Pool 8 and it just didn't come together," said Mains.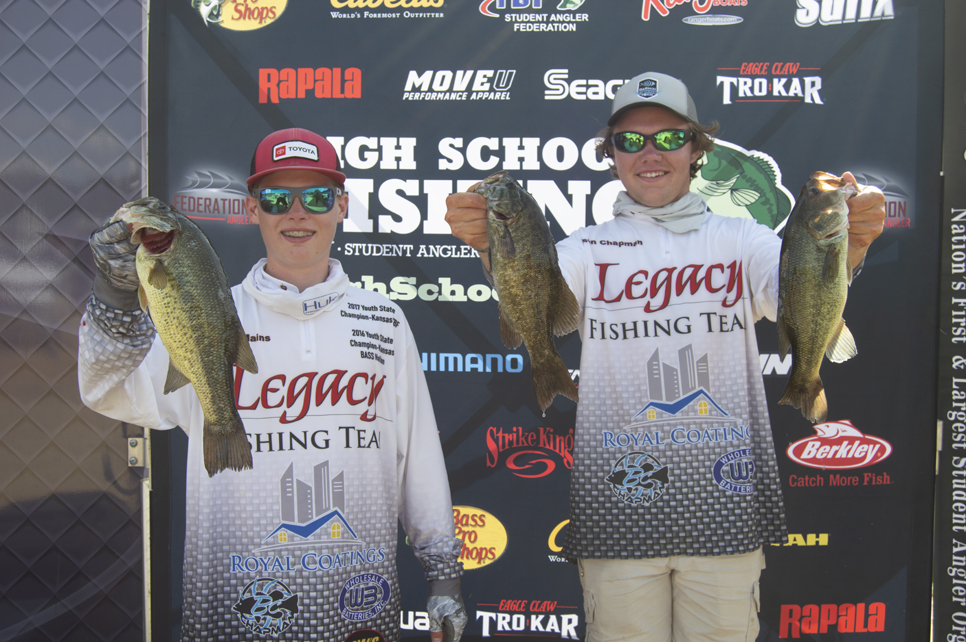 They remained optimistic for their chances tomorrow, however. "If we can get to our fish, they shouldn't be very pressured and I'm excited," said Chapman. "It's awesome to make the cut and hopefully with the rain it will be a good day."
Conner Chase and Joshua Buller of Springfield, Oregon, applied their knowledge of the Columbia River to rack up a 17-pound, 11-ounce two-day tally. They were elated to move forward in both events but said the experience in itself was more than worth the trip to Wisconsin.
"I love it," Buller beamed. "It's awesome to meet new people, fish new water and try new tactics."
"Even with the Coronavirus this is a great way to see other people and catch fish while following the rules and staying safe," Chase added, alluding to the comprehensive series of COVID-19 precautions SAF officials implemented to protect participants, spectators and staff throughout the event.
Cole Holloway and Ryan Thomas of Morgan County, Georgia, notched a 17-pound, 10-ounce two-day total in the World Finals and National Championship, buoyed by 8-pound, 15-ounce and 8-pound, 11-ounce limits. The Mississippi River is a different playing field than their Lake Lanier home waters, but the team says their experience on Peach Tree river systems is helping them adjust.
Fishing the title events is also worlds apart from smaller regional tournaments, but Holloway reported their strategy for victory is the same. "Put your head down, block everything out and fish harder than everyone else," he explained.
Hard-fishing brothers Cameron and Hunter Meadows of Norman, Oklahoma, added 8 pounds to their 9.9-pound day one catch for a 17-pound, 9-ounce total in the World Finals. "The short day today hurt us," said Hunter. "We got fewer bites with less time to fish, but we stuck to our game plan and it ended up working out." Cameron noted that their 3.11-pound kicker was the first fish in the livewell. "That definitely calmed us down a lot," he grinned. "Hopefully, we can back it up with some bigger bags the next two days. We're just going to go out, have fun and try to make it to the final round."
Tristan Beck and Colson Brust of Carthage, Missouri, sacked an 8-pound, 3-ounce limit for a 16-pound, 12-ounce total. The young guns say a fast-paced attack is helping them overcome the challenges of competing on an unfamiliar system.
"The Mississippi is totally different than our home waters of Table Rock, Stockton and Bull Shoals," said Brust. "We've been focusing on Pool 8 and covering as much water as we can to contact fish," added Beck. "Today we got about 10 keepers and are going to stick to this program tomorrow."
Colin McDaniel and Cade Nettles of Stonewall, Louisiana, brought in an 8-pound, 15-ounce limit for a 15-pound, 13-ounce two-day total. "The fog delay limited our fishing time, but the day went well," said McDaniels. "I feel like we made a pretty good jump. We're really excited and surprised by the fish we caught, and we're looking to do it again in the World Finals tomorrow."
He and Nettles said the mighty Mississippi is making them feel at home. "It fishes a lot like Grand Bayou and Caddo," said Nettles.
With the weather forecast calling for a change from sunny skies to overcast and rain, the pair is prepared to tweak their game plan accordingly. "We may need to change up some of the baits to draw more reaction bites," said McDaniels. "We'll adjust however the fish tell us," Nettles offered, adding a reverent note of gratitude for the opportunity to participate in the events. "Thank the Lord," he said. "For us to be able to come here and do this is a real blessing."
Created to foster a love of fishing and the outdoors among high school students, SAF offers a variety of education, conservation, competitive and community service components.
All SAF members are eligible to compete in the World Finals, while National Championship contenders qualified through a series of state championships. All anglers competed for the first two days, with weights tracked separately for each event.
Everyone will compete in the World Finals on Friday, with weights zeroed for a fresh start. The top two teams from each state will fish the World Finals semi-finals, while the remaining teams compete in a second chance round. The top 10 semi-finalist teams and next 10 finishers from both groups will advance to the World Finals grand finale on Saturday, along with the top 10 teams from the National Championship and the winners of a "Lucky Dog Last Chance Wildcard" drawing open to one team not already qualified.
In the National Championship, the top 10 teams from today's weigh-in move on to fish for the national title tomorrow, with the remaining competitors fishing the World Finals' second-chance round.
The day two weigh-in was presented by Shimano, with Shimano's state-of-the-art SLX DC 150 reels awarded randomly to the competitors. Spectators on site and online were treated to a total of 510 bass weighing 1,136 pounds, 9 ounces crossing the scale in the SAF's proven catch-and-release format. One-hundred nineteen teams scored limits. Big bass was a 5-pound, 1-ouncer brought in by Lawson Losee and Kooper Tweite, who received a pair of Lew's high-performance baitcasting reels for their efforts.
Young anglers fishing the events are also enjoying having their exploits showcased to millions of bass fans. Besides worldwide streaming, social media blitzes and national coverage via SAF and FLW Outdoors' media venues, the dual event is being filmed for national television airing on Federation Angler TV on the Pursuit Channel.
The action continues on Friday with a 6 a.m. takeoff, and the day three weigh-in starts at 1:30 p.m. For complete detail results, visit HighSchoolFishing.org.
SAF sponsors include: Bass Pro Shops, Berkley, Booyah, Cabela's, Eagle Claw, Evinrude, Facultyoffishing.com,  Favorite Fishing, FishLab, FLW,  Lews, MotorGuide, Move U Performance Apparel, Pursuit Channel, Ranger Boats, Rapala, Seaguar, Shimano, Strike King, Sufix, and VMC.