The Championship event for the GISA and GAPPS anglers was held on West Point Lake at Pyne Road Park on March 19th.  All of the qualified anglers from the three previous qualifying events came to participate.  Heavy rain and strong storms greeted the anglers on Friday as the system dumped a couple inches of rain during the day.  Anglers were still excited to get out on the water on Saturday and most teams brought fish to the scales that afternoon.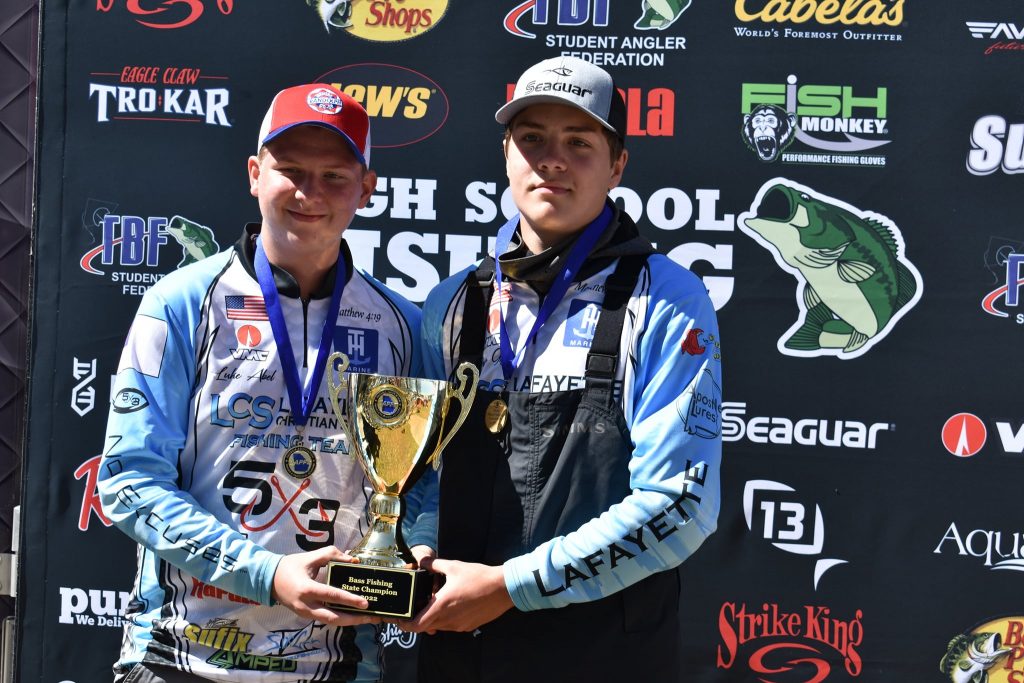 Conner Gisler and Luke Abel, from Lafayette Christian School, took home the title of Champions as they weighed in a limit that weighed 9 pounds and 11 ounces.  In a close second was another Lafayette Christian School team of Garrett Cromer and Paul Batastini with 9pounds and two ounces.  The Rock Springs Christian Academy team of Cal Johnston and Haynes Fleming finished third with 8-05.  Fourth and fifth went to Mitchell Dean and Will Green with 8-00 and Camron Outler and Greer Posey with 6-15.
Three pounds and nine ounces took Big Bass Honors by the team of Cal Johnston and Haynes Fleming.  Most all anglers were fishing fairly shallow.  Teams said they caught most of their fish in less than five feet of water.  Lipless crankbaits, spinnerbaits, jigs and crankbaits were all good bait choices.
As the winners of this event, Conner Gisler and Luke Abel earned a berth into the upcoming SAF High School National Championship at Pickwick later this summer.  This year's World Finals and National Championship will be held on June 19-25 at Florence, Alabama at McFarland Park.
Final Results and Photos from this event can be found by clicking HERE.