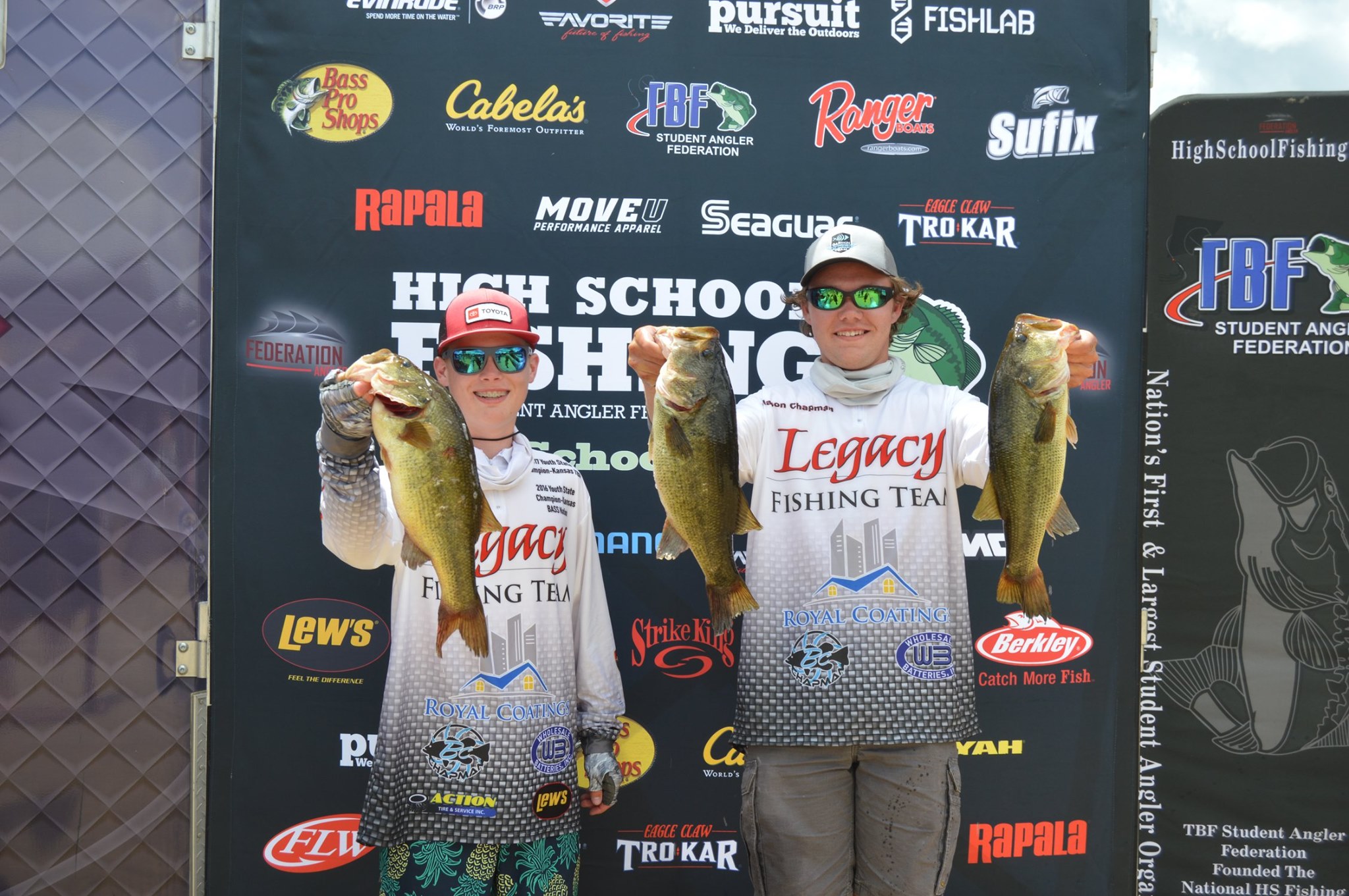 June 24, 2020—Stoddard, WI—Excitement was running high among the 312 two-person teams competing on day one of the Student Angler Federation (SAF) 2020 High School Fishing World Finals and National Championship.
Held June 24-27 on Pools 7, 8 and 9 of the Mississippi River and hosted by La Crosse, Wisconsin, the dual event features 312 two-person teams from across the U.S. Take-offs and weigh-ins are being held at scenic Stoddard Ramp midway along Pool 8's eastern shore as the action continues through Saturday.
Produced by SAF under The Bass Federation umbrella with support from a coalition of 19 sponsors and FLW Outdoors, the World Finals and National Championship dual event offers more than $3.2 million in college scholarships and other prizes. In fact, SAF officials report that the purse is the richest in SAF High School Fishing history and likely the largest ever posted in all levels of competitive bass fishing.
All SAF members are eligible to compete in the World Finals, while National Championship contenders qualified through a series of state championships.
All anglers compete for the first two days, with weights tracked separately for each event. In the World Finals, the top two teams from each state advance to fish on Friday, when weights are zeroed to give competitors a fresh start. The top 20 teams at Friday's weigh-in advance to the World Finals grand finale on Saturday, along with the top 10 teams from the National Championship and the winners of a "Lucky Dog Last Chance Wildcard" drawing open to one team not already qualified.
On the National Championship side, the top 10 teams at Thursday's weigh-in move on to fish for the national title on Friday, with the remaining competitors fishing the World Finals' second-chance round.
Teams are allowed to bring their best three bass to the scale each day. Ryder Mains and Mason Chapman of Kansas City sacked an 11.11-pound limit to top the leaderboard of both the World Finals and National Championship. They admitted the mighty Mississippi and its sprawling necklace of bass-rich backwaters fish a bit differently than their home waters, but were confident in the patterns they've put together during practice.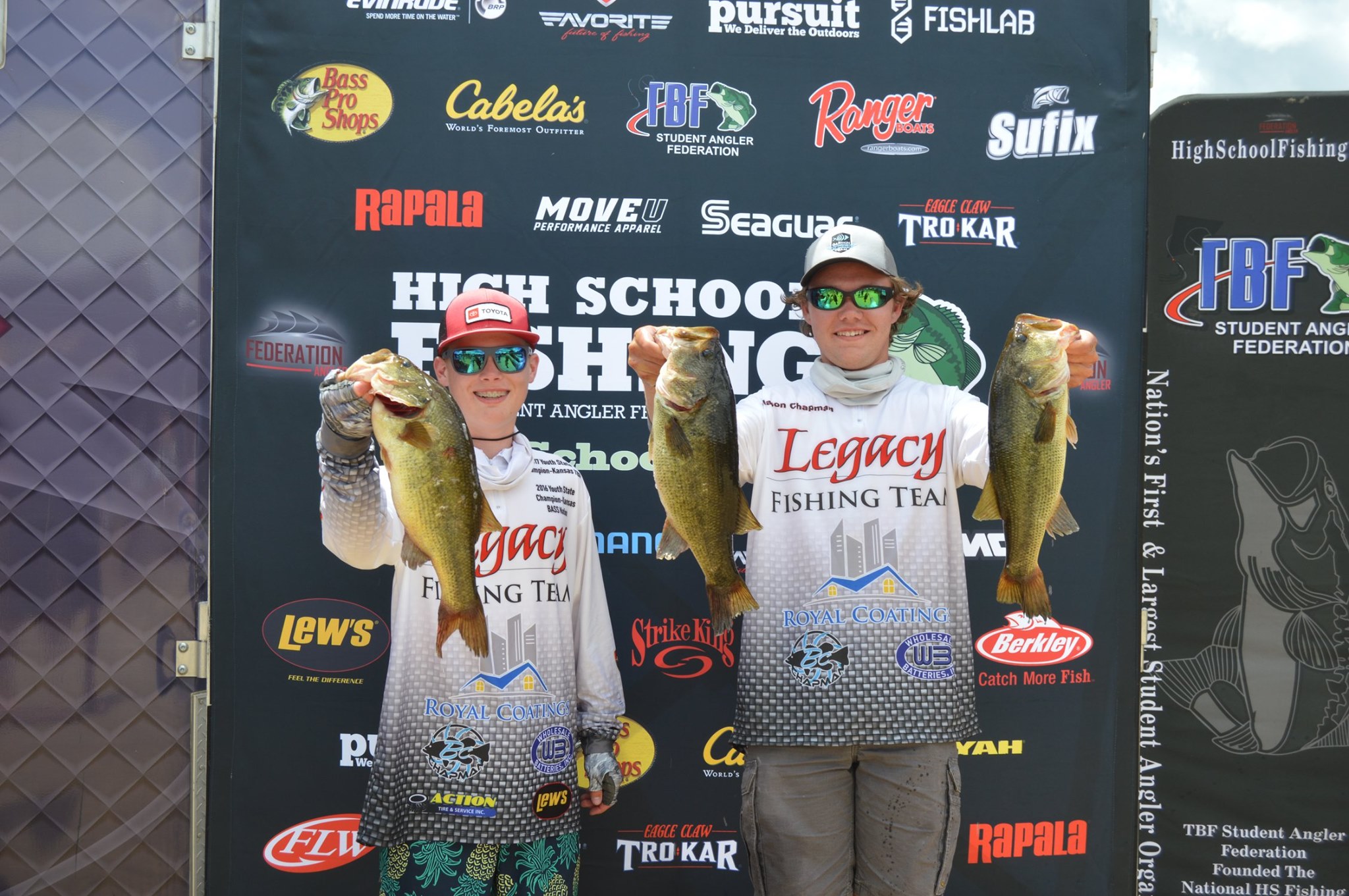 "Water fluctuations are minimal and there's pretty decent current, which bodes well for the next three days," said Mains. Chapman noted the action was steady throughout the day. "We kept getting bites, catching fish and slowly upgrading," he explained.
Regardless of where they land in the final standings, both Mains and Chapman were elated to be fishing the dual event and grateful to the sponsors and organizers who made it happen. "I love it," said Mains. "It's awesome how they put this all together for us," added Chapman.
Arizona SAF state champions Austin Rojas and Branden Kuhn made the 28-hour, 1,800-mile drive from their Lake Havasu City homes to compete in the World Finals and National Championship. They were satisfied with their solid 9-pound limit, and said the Mississippi fishes surprisingly similar to their home waters.
"We're basically fishing the same things we use up the river back home—frogs, spinnerbaits and presentations like that," said Rojas. "Tomorrow we're gonna keep chugging away, keep our hopes high and see what we bring to the scales."
Mackenzie Harrelson and Tripp Berlinsky trekked from the opposite side of the continent in St. Cloud, Florida, to fish the World Finals. They said the river is a big change from their home lakes in the Sunshine State's midsection, but they're still dialing in productive patterns. "We're doing pretty good against the Florida teams," said Harrelson. "I think we can put together another couple good bags and keep moving up a little more," added Berlinsky.
SAF Tournament Director Randy Sullivan expects the next three days to be equally exciting for anglers and fans. "Forty teams are within 4 pounds of first place, and many more are in striking distance," he said. "With a three-fish limit, everybody has a chance to catch one big fish and go from the bottom of the leaderboard all the way to the top. It's going to be fun to see how it plays out."
Sullivan noted that angler and spectator safety remain SAF's top priority, and explained that a full suite of COVID-19 precautions are in effect throughout the event, from opening registration to the final weigh-in. "We're doing everything possible to keep our anglers, spectators and staff safe," he said. "And we're grateful to the city of La Crosse and Stoddard for working with us to make this event a reality."
The day one weigh-in was presented by Seaguar Performance Fishing Lines. Teams weighing a limit of bass received spools of Seaguar's 12-pound Red Label 100% Fluorocarbon. To the delight of fans watching on site and online around the world, a total of 312 bass weighing 1,527 pounds were brought to the scale in the SAF's catch-and-release format. One-hundred ninety teams scored limits. Big bass was a 4-pound, 8-ounce beauty brought in by James Alderman and Cole Davis, who received a pair of Lew's high-performance baitcasting reels for their efforts.
Adding to the excitement, the dual event is being filmed for national television airing on Federation Angler TV on the Pursuit Channel. The action continues on Thursday with a 6 a.m. takeoff, and the day two weigh-in starts at 1:30 p.m. For complete details and results, visit HighSchoolFishing.org.
SAF sponsors include: Bass Pro Shops, Berkley, Booyah, Cabela's, Eagle Claw, Evinrude, Facultyoffishing.com,  Favorite Fishing, FishLab, FLW,  Lews, MotorGuide, Move U Performance Apparel, Pursuit Channel, Ranger Boats, Rapala, Seaguar, Shimano, Strike King, Sufix, and VMC.