The first GHSA Qualifier rolled into Bainbridge on January 21.  The weather was much improved from that of last year.  With warmer temps and better weather conditions, there were quite a few more fish brought to the scales this year.  A total of 252 teams participated and we were able to qualify the Top 30 teams from this event and send them to the State Finals at Clarks Hill on May 20th at Wildwood Park.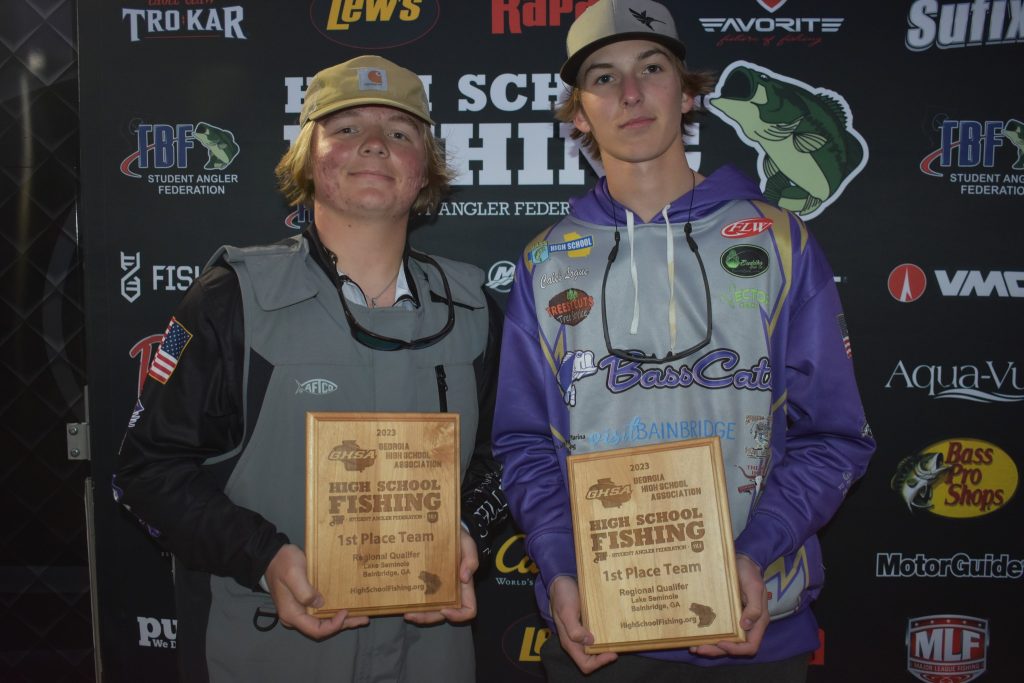 The Bainbridge Basscat team of Hayden Reynolds and Caleb Logue won the event with a monster bag that weighed 21-06 pounds.  Branton Champion and Jackson Behringer from Richmond Hill finished a close second with another impressive limit that weighed 20-04 pounds.  The Callaway team of Dawson Foster and Billy Bozeman brought 17-01 to the scales and finished third.  Jacob Brightwell and Hardin Roberts had an even seventeen pounds and managed to finish fourth.  Leila Gragg and Pierce Gragg weighed 15-04 pounds to claim the last spot in the top five.  Tucker Chalfant and Tripp Harvey claimed Big Bass Honors with the only fish in their bag which weighed in at 6.01 pounds.
More teams caught more fish this year as 133 teams weighed in at least one fish, while there were 37 limits of fish brought to the scales.  Just over seven hundred and eighty pounds of fish were weighed and all fish were released alive back into Lake Seminole.  Anglers reported catching their fish on a variety of baits during this event.  Numerous anglers were fishing shallow grass using soft plastic baits to catch their fish.  Flukes, Speed Worms, Robo Worms and Creature baits were all good choices.  Other anglers were also fishing grass lines with chatterbaits, swimbaits and spinnerbaits to catch their fish.
The second GHSA event is coming up on February 18 at Lake Oconee at Sugar Creek Marina.
Full results of this event can be found by clicking HERE
Photos of this event can be found HERE