Virginia Anglers Crowned WORLD CHAMPIONS at the 13th annual High School Fishing World Finals in Florence
The thirteenth Annual High School Fishing World Finals was held in Florence, Alabama on Pickwick Lake at McFarland Park on June 22-25, 2022.  Once again, teams came from all across the United States in record numbers, to participate.  More than 40 states, including Hawaii and a couple of teams from Zimbabwe, South Africa were on and to try and take-home part of over 2.6 million dollars in college scholarships.  With a record breaking 416 teams in attendance for a week, Florence was a good place to old this event.  There was plenty of places to stay, lots of places to eat and shop and lots of great things for the families to do around the city, while the teams were out on the lake.  McFarland Park was the site of the daily weigh-ins and sponsor festivities.  Many of the High School program sponsors showed up to display their products and visit with the families each afternoon.  Every day featured different sponsor giveaways for the anglers catching fish.  As always, Friday night was Senior night at the park.  Every outgoing and graduated Senior received a fishing rod from Favorite Fishing.  This year those rods were handed out by Pro Mark Daniels Jr.  He spoke to the crowd and stayed around for pizza and photos with the anglers.
Even with the extremely hot weather, the fish were still biting pretty good.  The first three days of competition saw multiple three fish limits that weighed between nine to twelve pounds.  There were even a few limits that were fourteen to eighteen pounds.  Eventual National Champions, Fallon Clepper and Wyatt Ford from Texas weighed in 18-08 on Day 1 for the biggest limit of the week and were wire to wire winners in the National Championship segment of this dual  event.  A summertime giant of seven pounds and eight ounces was the Lew's Big Bass of the week.  With a group this size, various teams found fish in a wide range of depths.  Anglers reported catching their fish in as shallow as three feet of water out to about twenty-five to thirty feet of water.  Neko-Rigs, Carolina Rigs, Texas Rigs and Ned-Rigs were all popular deep-water baits.  The standard topwater baits, chatter baits, spinnerbaits and Texas Rigs were used up in the shallower waters.  The field was divided when it came to numbers of fish caught.  Some teams were just catching enough to get their three fish limit each day, while other teams were talking about culling as many as seven or eight times each day.
The final day saw eighteen different states represented from all over the country.  California, Arizona were there from out west, Minnesota and Michigan from up north, Vermont and New Hampshire from the northeast, Virginia and South Carolina from the east, Texas and Louisiana from the south and Tennessee and Alabama which were the closest to Pickwick Lake.  When it was all said and done, the Virginia team of Wes Newman and Kendall Hatch brought 13-07 to the scales to seal the victory and take home the six-foot trophies and the titles of2022 High School Fishing World Champions.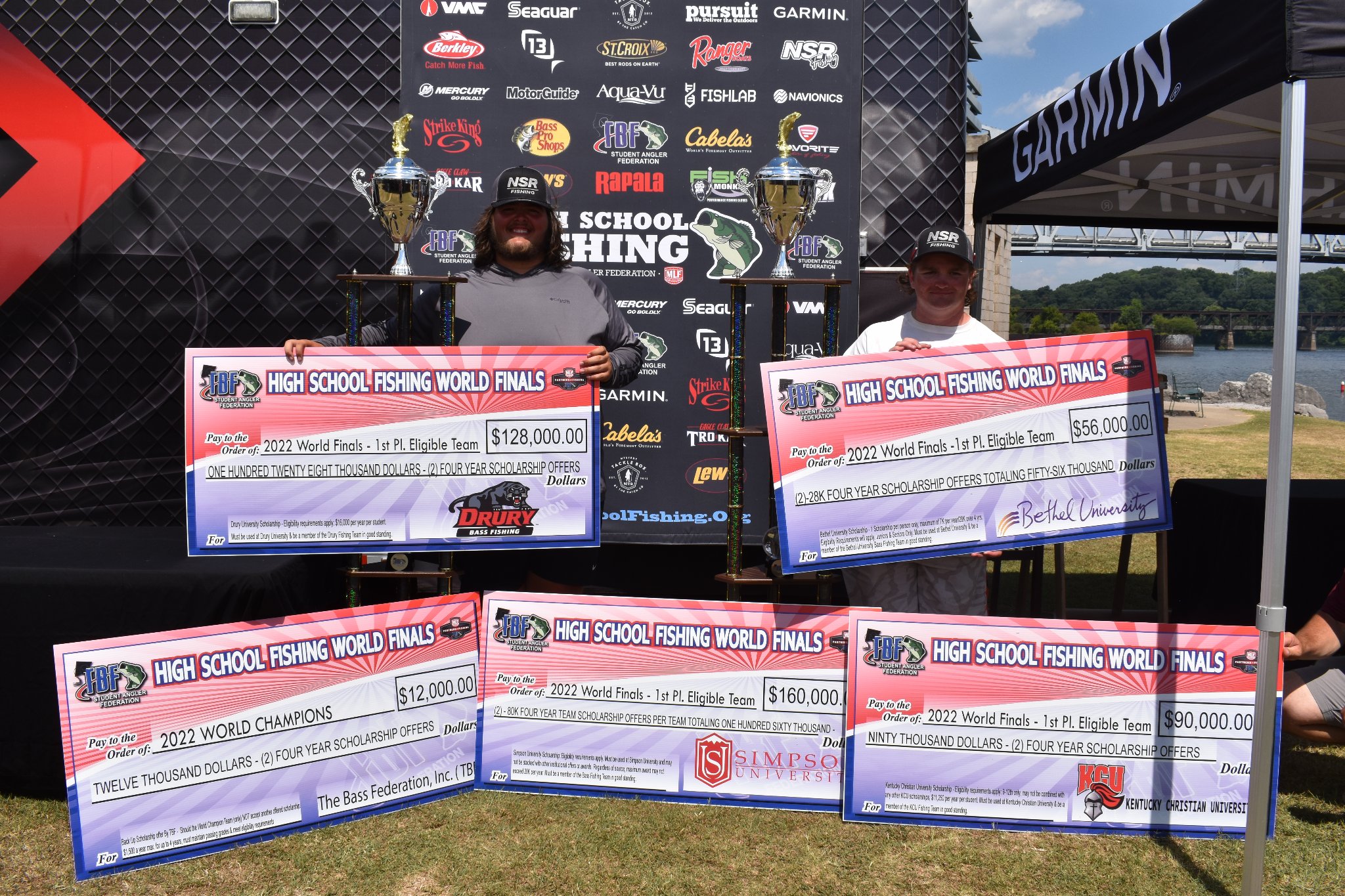 Just behind them in second was the Minnesota team of Walker Krampitz ad Brady Matz with 11-06.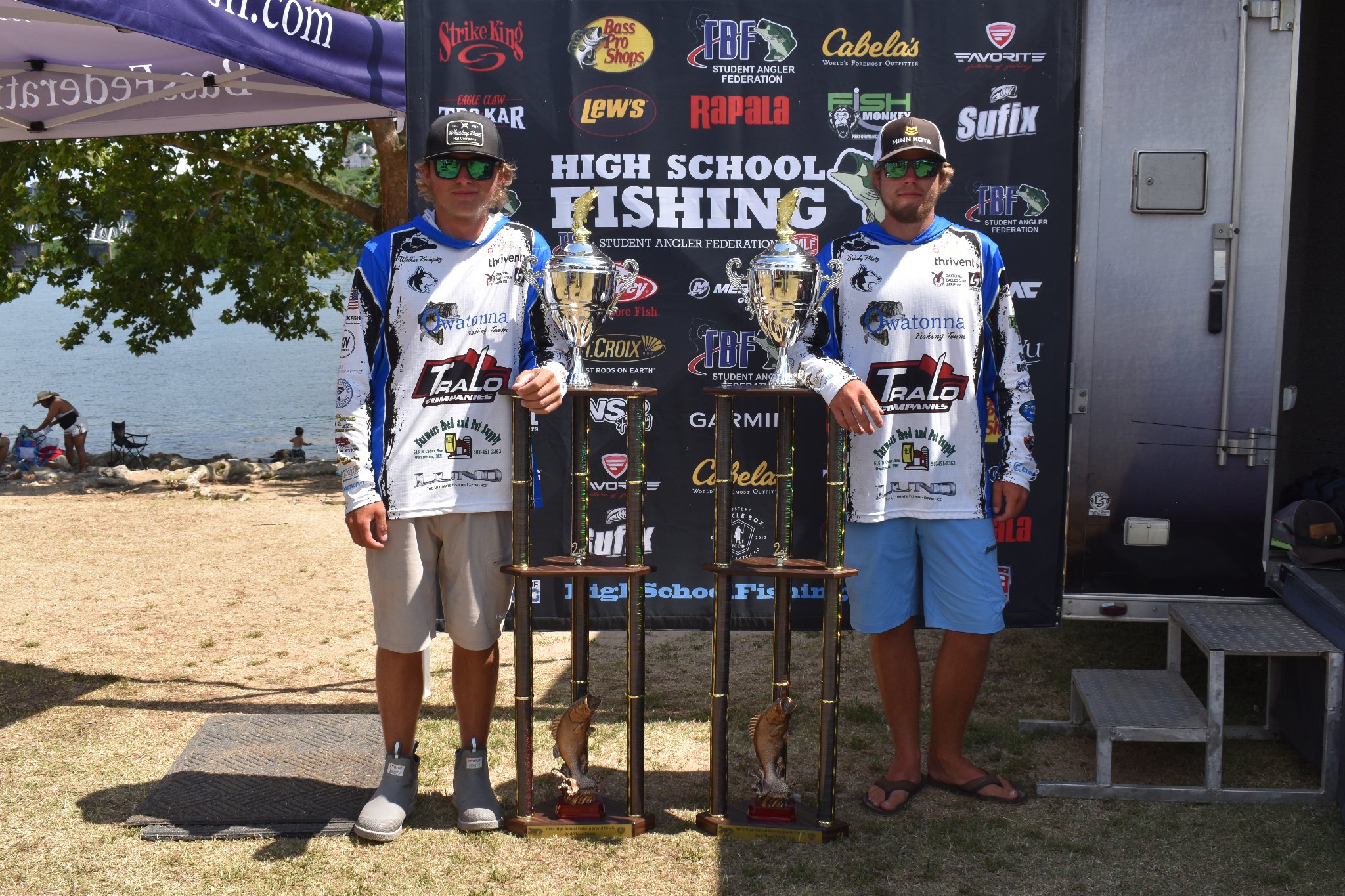 Third place belonged to Kade Suratt and Hunter Brewer from Tennessee with 11-05.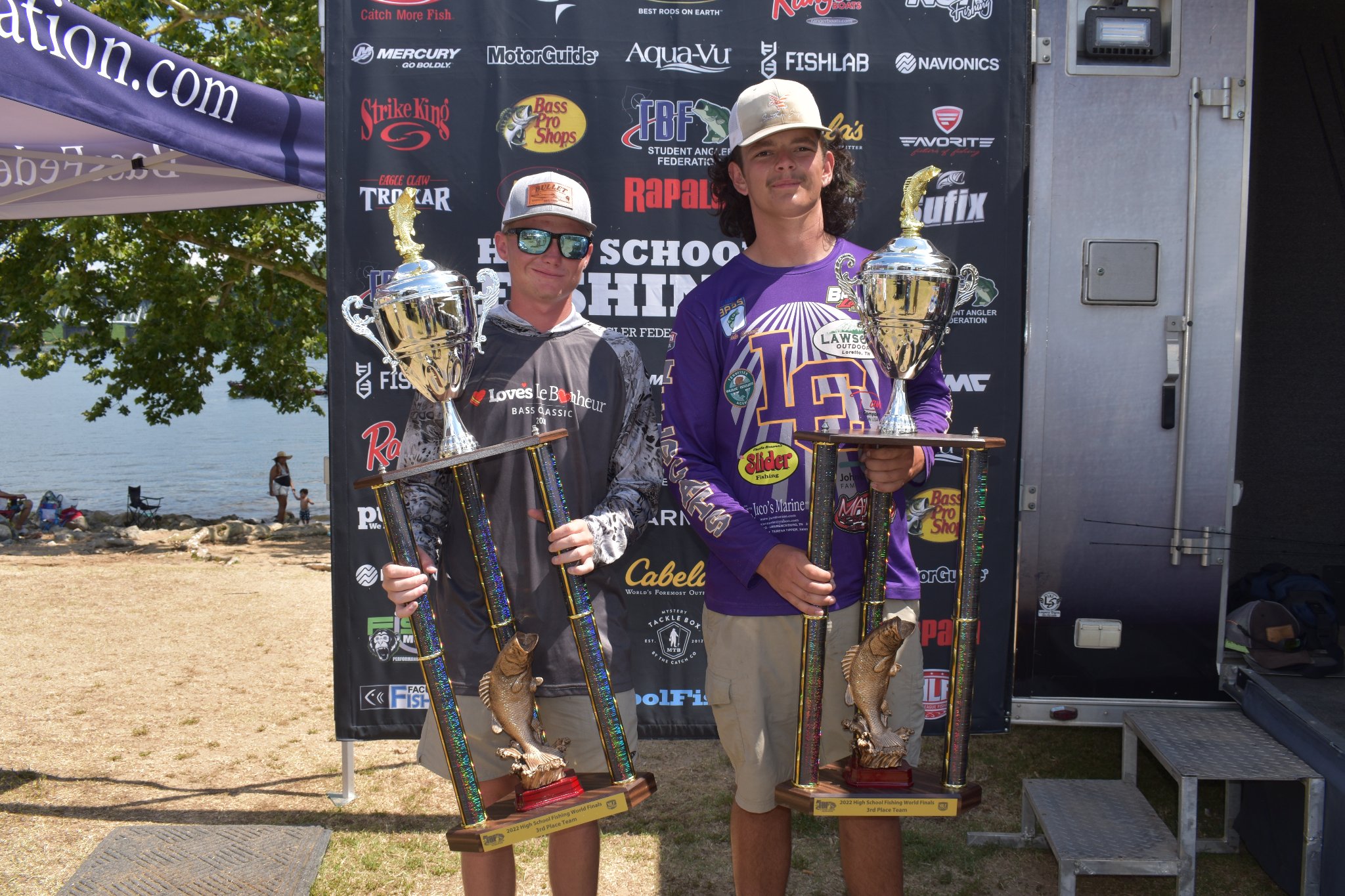 Rounding out the top five were the teams of Walker Larue and Joe Waulton from Tennessee with 10-09 and Will Thomas and Michael Arienzo with 10-07.  After the awards ceremony was completed, there were over 2.6 million dollars in college scholarships offered to a wide variety of the final day teams.
Including of course the winners, but also 2nd and 3rd place teams, top female team and anglers, top co-ed teams overall big fish winners top team from Ohio, New York and Pennsylvania, top eastern teams top 3 western US teams and more.
For full information, results, scholarship lists, and more checkout the world finals home page HERE.
For event pictures and more check out our facebook page HERE
The fourteenth Annual High School Fishing World Finals and National Championship will be at Lacrosse, Wisconsin in June 19-24 of 2023.   For more information about how to get involved with High School Fishing go to www.highschoolfishing.org.