FISHERY MANAGEMENT SCHOLARSHIP PROGRAM ANNOUNCED BY BASS FISHING HALL OF FAME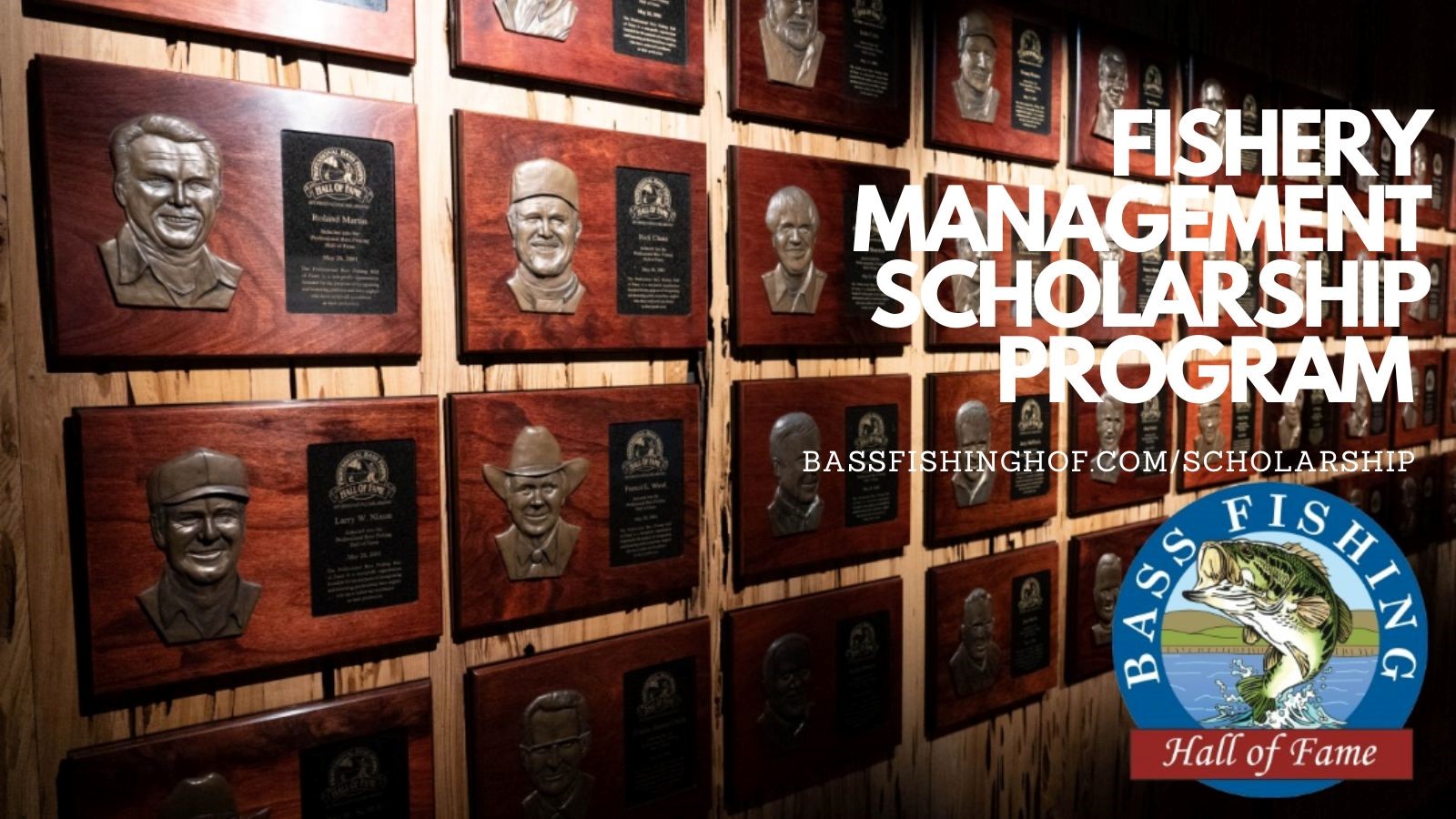 SPRINGFIELD, Mo.  – FOR IMMEDIATE RELEASE – Making sure the many lakes and reservoirs in the U.S. and Canada where anglers pursue bass are healthy and vibrant relies a great deal on the efforts from federal, state, and provincial fishery management professionals. To assure those efforts are supported, and to provide financial resources for high school and college bass anglers looking to pursue careers in the fishery management field, the Bass Fishing Hall of Fame Board is instituting a college scholarship program for students seeking a degree in a natural resource field with an end goal of becoming a practicing fishery manager.
Up to $15,000 will be awarded in July 2023 to the selected applicants. Applications for the scholarship are now being accepted at https://www.bassfishinghof.com/scholarship.
               "Within many fishery management agencies, there is a definitive need to fill vacant positions with qualified individuals who understand and have a passion for both the sport of bass fishing and the science needed to manage those fisheries," said BFHOF Board president John Mazurkiewicz. "Spearheaded by Gene Gilliland, Casey Shedd, and our Conservation Committee, this new scholarship program fits in ideally with the Hall's mission of celebrating, promoting, and preserving the sport by supporting those whose future career path will focus on healthy fisheries, needed access, and clean rivers, lakes and reservoirs."
               Gilliland notes that scholarship applicants must be a high school senior who has committed to enroll or be an undergraduate and graduate student currently enrolled in a four-year college, university, or accredited graduate program. They must declare or have declared a major in biology, aquatic ecology, fisheries, marine science, or a closely related natural resources field. "We're also asking every applicant to submit a short essay explaining their goals for a career in natural resources and to describe their dream agency job, along with proof of membership in a recognized bass fishing organization or provide a copy of a valid fishing license," said Gilliland.
               The BFHOF Fishery Management Scholarship Program form outlines all the application requirements. Gilliland also mentioned all applications will be reviewed by an independent panel that includes individuals involved in fishery management issues in both the U.S. and Canada, including Phil Morlock, Director of Government Affairs with the Canadian Sportfishing Industry Association; Chris Horton, Senior Director of Fisheries Policy with the Congressional Sportsmen's Foundation; Ross Self, Chief of Inland Fisheries for the South Carolina DNR; and Dr. Mark Rogers, Tennessee Cooperative Fishery Research Unit Leader at Tennessee Tech University.  
The application deadline is May 31, 2023 and the scholarship winners are notified by early July. For student financial aid requirements, the monetary award from the Bass Fishing Hall of Fame is considered a stipend for use by the student for any school-related expenses.
               For more information on the BFHOF Fishery Management Scholarship program, visit https://www.bassfishinghof.com/scholarship
###